Stamping on Your Pages
Stamping in your scrapbook combines two very popular crafts done on paper. They are a great way to add variety and are an economical way to add decoration.
| | |
| --- | --- |
| | They are also a great investment for any budding scrapbooker. They come in a a large variety of shapes, sizes, styles and designs and can be used over and over again. They can also be used if you decide to take up card making or other paper crafts. |
The type of ink used depends on the look you want to achieve and on what material you want to use it on. Here are the most common types of inks: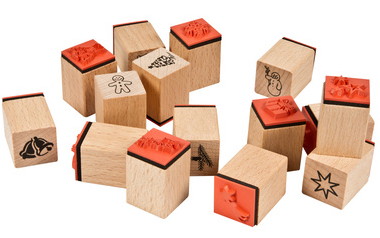 Dye - is fast drying ink that resists smudging and is permanent once used on paper. It is perfect for most projects and available in thousands of colors. However, dye based inks may fade with time, making them less attractive for scrapbook enthusiasts.
Pigment - is slow drying ink that is permanent, fade-resistant, and easy to smudge. Colors tend to be more vibrant, and ink is a bit thicker than dye-based inks.
Chalk Finish- is where the ink dries to a subtle, chalky finish, even on dark surfaces. These may be purchased in dye or pigment ink.
Versamark - this is watermark ink that leaves a subtle tone on tone image. This is also great for embossing.
Staz On - is a solvent based ink and dries by evaporation, not absorption like water-based dye inks. This makes it great for smooth surfaces. the rubbers should be cleaned immediately with a solvent cleaner when using this ink.
If you are nervous applying ink on to your layout, you can do it onto another piece of cardstock or patterned paper instead of directly onto your layout. That way if it doesn't turn out how you want, you can easily repeat it until you get it just right.
Stamping in your scrapbook can be fun, creative and just one more way of personalizing your scrapbook in an individual and unique manner found only in your book.