Scrapbooking Supplies and Tools
To start scrapbooking your family history, you will need to start by purchasing or looking around your house for some supplies and tools. 
Many department stores have special craft sections which is great if you are on a limited budget. Otherwise, there are a lots of on-line stores. Once you know your average prices for tools and supplies, ebay is also a good resource for budget items.
You can also browse your local scrapbooking store.
Here is a list of basic tools and supplies you will need to get started:-
Paper and Cardstock
---
| | |
| --- | --- |
| | You can buy individual sheets of paper from a craft store, but it is more economical to buy a pack of paper in the size that you want and coordinates with the album that you are working on. Your paper will never go to waste if you buy more than you need right now |
Buying a few sheets of patterned paper is also a good idea. Once you start on your first page you will realize that you need some to have a few contrasts on the page.
Pick some pieces of paper from your supply. Look at the colors in the photo and try and coordinate your paper colors with those in the photo.
If it is a Black and White photo then you can pick any color you want, however, since this is a heritage album you may want to stick with fairly neutral colors or soft pastels.
There are quite a number of ancestry and vintage themed kits available now that they are too hard to go past if you are a beginner. They usually include patterned paper, cardstock, embellishments and stickers.
If you have more than two or three photos of the same person or same event, consider building a double page layout (two pages side by side) so that you can create a cohesiveness to your page.
Cutting tools
---
sharp scissors,

hobby knife,

guillotine 

paper

trimmer.
I prefer a sharp hobby knife but you can start with sharp scissors and make your own decision.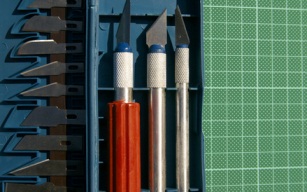 Adhesives
---
Albums
---
The size of your album will determine the size of the page you are going to produce. 
Albums come in sizes 8 1/2 x 8 1/2 inch or 12 x 12 inch. 
Before determining the size you might want to figure out storage of these albums once they are produced and the number of pictures you have to include in them. All of these criteria will enter into your decision about the size of the album.
Embellishments
---
When you're designing your individual page remember to select embellishments that go along with the particular photo you are highlighting.

Look only for items that will match your theme.

 More information on embellishments
There are so many different tools and supplies on the market but the ones above are the basics you would need to start a scrapbook page. If you get bitten by the scrapbook bug, there is a huge world to explore in scrapbook stores and online to find the tools that will suit you the best.
google-site-verification: google1b9bd101a9049870.html
Return from Scrapbooking Supplies