Preserving Your


Old Photos, Slides and Negatives
| | |
| --- | --- |
| | These factors can cause them to fade and deteriorate over time. |
Here are some ideas and tips to
preserve your memories:-
Cotton gloves
Whenever you are handling these items, the best thing to do is to handle them with white cotton gloves, especially if they are antique photos. These items also need to be handled very delicately, otherwise they can be damaged severely.
Soft brush
Some items have a build up of dust or dirt from being stored for such a long time. To remove this dust, you can use a soft brush with a very careful and light touch.
Do not use water or any other liquids to clean them. If you are not comfortable doing this yourself, take them to a restoration professional to be cleaned, repaired and conserved.
Archival storage
Anything that the photos have been stored in may have also affected the photos if it wasn't archival quality. Therefore, these storage items will need to be thrown away. There are lots of products on the market now that will help you preserve your memories.

Digitally scanning photos, negatives and slides will minimize the handling of these items in future.
Tips for Scanning Photos, Negatives and Slides
Connect the scanner to your computer and load the software as instructed. Read the information that comes with the scanner as that will give you some tips as well.
Ensure the scanner glass is clean. Use a dampened lint-free cloth to wipe the glass thoroughly to remove dust and dirt.
Ensure that any dirt or dust is removed from the photos.
Place photos face down on the glass. Negatives and slides will need to be placed in to the adaptor that comes with the scanner.
Press the preview button and the scanner will scan the image for preview. You can crop the photo before scanning to the computer so you can remove any damaged edges.
Scan the photo as if it was color, even if it is a black and white photo.
Scan the image at 300 dpi or 600 dpi for best results. Anything higher than this will use more of your hard-disk space on your computer. If you purchase an external hard-drive then you can scan the photos higher than 600 dpi.
Preserving your photos can be an easy process with the right equipment.

Negative Scanners
Return from Preserving Your Old Photos, Slides and Negatives to Home page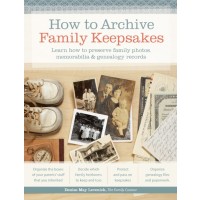 How to Archive Family Keepsakes: Learn How to Preserve Family Photos, Memorabilia and Genealogy Records
google-site-verification: google1b9bd101a9049870.html