Embellishments for your
Scrapbook page
Embellishments are a vital part of your page and without them your page would look plain. They create the uniqueness of your page and can add mood and pizzazz.
There are an enormous variety of types of accents you can use and it can be quite overwhelming picking them out when you start scrapbooking. However, if you stick to the basic accents you will feel more confident using other types over time.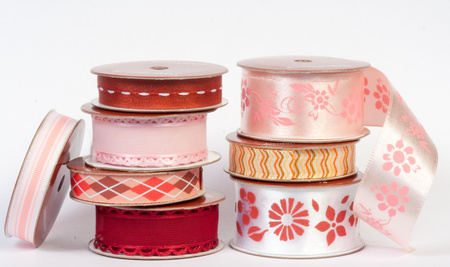 Some of the best embellishments may already be in your own home, so start looking around in your cupboards to start your collection. If you have sewing supplies, then you can use some ribbons or pieces of fabric.
You don't have to run down to your closest scrapbooking store or spend countless hours internet surfing to find the right addition to your page. You can check out your local department store or even a discount store or craft shop. If you see something you think may suit your page or any future pages, then buy it right away. You never know if you will find it again.
---
Here are some ideas for decorating your pages:-

Fabrics and Textiles 
Ribbons - can be used in may different ways
Lace - creates a soft, feminine and vintage look
Embroidery floss or thread
---
Paper - Acid Free 
---
Flowers 
Flowers are a great way to add softness to your page. They are an integral part of family history scrapbooking. You can use flowers made of paper, silk, fabric, crocheted cotton or wool and may other materials.
Paper flowers - are my favourite accent. I love to use them on my family history scrapbooking. They are also an economical way of adding to your page. 
 

 

There are so many varieties, colors, sizes to choose from.

Silk flowers - come in various sizes and shapes
---
Metal
---
google-site-verification: google1b9bd101a9049870.html
Return from Embellishments to Home page